Tips on Writing Dialogue That's Truthful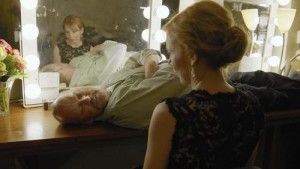 TABITHA
(to Riggan. A derisive laugh)
You're no actor. You're a celebrity. Let's be clear on that.
Tabitha rises from her seat and grabs her things.
TABITHA (CONT'D)
I'm going to kill your play.
In Birdman, (directed by Alejandro González Iñárritu, screenplay by Alejandro González Iñárritu, Nicolás Giacobone, Alexander Dinelaris Jr. and Armando Bo) theatre critic Tabitha is despicable. She knows it. Protagonist Riggin knows it. And what makes matters worse is that in these four lines, Riggan knows in his very soul that Tabitha is telling the truth. The truth hurts. Riggin is struggling with his celebrity and all that comes with this label. He wants to be respected as an actor, not for his celebrity. The words flowing from your characters' mouths should be true to who they are. Whether your characters are telling the truth or lying, or believe they are being accurate or not, when you, the screenwriter, have a deep understanding of your characters' motivations and behaviors, the more believable your dialogue will be. Good dialogue clearly conveys emotions, attitudes, strengths, vulnerabilities, and so on, while revealing the details of your plot and advancing your narrative.
Ten Top Tips to Writing Truthful Dialogue