Buy Susan's Books
BUY…
SAVVY CHARACTERS SELL SCREENPLAYS!
Buy the book: Click on the book image & save $1.00 by using discount code G22GAZPD.
Also available on Kindle but discount does not apply.
ABOUT SAVVY CHARACTERS…
Whether you are a first-time screenwriter or have written several scripts, Savvy Characters Sell Screenplays! offers inspiration and hands-on tools, guiding you through each critical element of screenwriting, with the spotlight on creating and crafting compelling characters so you can write a savvy screenplay that will sell.
When you pitch your project to a film executive — or a story analyst is reading your script — these film industry folks are asking and evaluating: Why should I care about your characters?  Will an audience care about these characters? Are these characters and the situations they find themselves in (regardless of the genre) interesting, unique, and engaging? The bottom line is this — if your characters don't ring true and are not fleshed out — your screenplay will be rejected.
A must-have guide for screenwriters, Savvy Characters Sell Screenplays! will help you make your characters thrive in all the essential elements that comprise a successful script. From protagonists to antagonists, supporting to dysfunctional characters, delve into your people and their plots and subplots, settings, dialogue, and relationships.
Inside the book you'll find…
THIRTY-FOUR WRITING EXERCISES designed to help screenwriters unleash ideas, strengthen their characters, and break through stumbling blocks…
SIX TEMPLATES from fictional scripts provide hands-on assistance with constructing characters, plus…
TWO HUNDRED-PLUS HOLLYWOOD, FOREIGN, and INDEPENDENT MOVIES, spanning approximately seventy years, are analyzed and referenced, offering screenwriters specific character-crafting examples to guide them through their writing process.
Accessible, fun, and thought-provoking screenwriting exercises geared to develop characters in each vital element that comprises a successful screenplay
Tools to developing believable and gripping characters with distinct characterizations, motivations, and behaviors
Advise on creating believable and gripping characters who will drive your plot forward in a meaningful and plausible journey
Buy Savvy Characters Sell Screenplays! now and give your screenplay the characters and success they deserve!
REVIEWS…

"To gain recognition in the field of screenwriting, stories must be perfect in every way. Savvy Characters Sell Screenplays! helps the screenwriter craft characters of substance whose actions change — and are changed by — the story.  This book is a marvelous resource."
— Allie Light, Academy Award® and Emmy® Award-winning Filmmaker
"With her engaging, insightful Savvy Characters Sell Screenplays! Susan Kouguell provides a valuable contribution to the ever-burgeoning world of screenwriting education."
— Professor Richard Walter, UCLA Screenwriting Chairman

"Savvy Characters Sell Screenplays! is chock full of useful examples and exercises to help beginning and seasoned screenwriters deepen their characters."
— Barry Brodsky, Director, Emerson College Screenwriting Certificate Program
"Savvy Characters Sell Screenplays! is definitely a welcome and useful addition to the screenwriting repertoire!"
— John Bernstein, Associate Professor, Film, Boston University College of Communication
"For over twenty years, Susan Kouguell has been a practicing screenplay doctor – and she's never lost a patient. Her latest lucid book is a must for anybody writing scripts, or seeking a deeper understanding of the movies they love."
— Thelma Adams, Film Critic,  author of the novel Playdate  
"Savvy Characters is jam-packed with illuminating examples and practical exercises that will allow the writer to create characters that we want to follow. A savvy (and succinct) guide indeed!  An invaluable tool that will become required reading for my film students."
— Deborah Meehan, Filmmaker and Professor of Film at Pratt Institute, Brooklyn, NY
BUY…
THE SAVVY SCREENWRITER!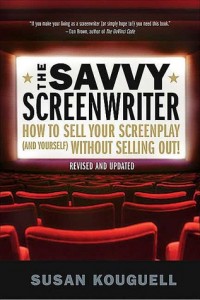 The Savvy Screenwriter (St. Martin's/Griffin) is now on sale for $10 plus $4.95 U.S. domestic shipping and handling. (Sorry, no  international shipping.)
 The Savvy Screenwriter provides a step-by-step guide to the evolution of a finished screenplay – helping screenwriters make that difficult transition from a screenplay on the desk to a screenplay read by the film industry.  Templates and sample synopsis, queries, loglines, and more are included.
Full of candor and wit, this book integrates personal anecdotes from Kouguell's lively film past, (written in dual formats—on an old-fashioned typewriter and movie scenes in screenplay format) juxtaposed by point-by-point advice regarding the nitty-gritty of getting a script into the right hands.
The Savvy Screenwriter navigates the maze set up by the film industry filled with daunting rules, etiquette, and the secret society of film executives. Methodically organized, clear, concise and easy to follow, Kouguell begins the tour at the beginning: telling what a story analyst is looking for in a new script. From there, Kouguell explains the ins-and-outs of query letters, synopses, pitching, targeting production companies, finding the elusive agent, script competitions, the boons/drawbacks of obtaining an entertainment lawyer, psychoanalyzing movie executives, option agreements and much, much more!
REVIEWS…
"If you make your living as a screenwriter (or simply hope to!) you need this book. Kouguell has helped countless writers take their craft to the next level. I know because I'm one of them!"
–Dan Brown, Best-selling author of The Da Vinci Code, Inferno
"The Savvy Screenwriter is a remarkably comprehensive, enjoyably irreverent and practical guide to the realities of the film marketplace. Amazingly, it never loses touch with the creative impetus that is the heart of every good screenplay.  Aspiring screenwriters will find a wealth of useful ideas (and not a few chuckles) here."
–Jeremy Pikser, Academy Award ® nominee for Best Screenplay Bulworth
"The Savvy Screenwriter is a savvy book by a savvy writer and educator, written with clarity and wit, providing worthy insights into the diverse challenges confronting screenwriters. It is truly a worthy new contribution to the literature."
–Prof. Richard Walter, UCLA Screenwriting Chairman
"If you buy only one book about marketing and how Hollywood works, this is the one to get.  Kouguell doesn't pull any punches or fill pages with pipe dreams, and her thesis – that savvy screenwriters will do better than ignorant or misinformed ones – shines as a result."
—Creative Screenwriting Magazine
"The Savvy Screenwriter will give you hands-on advice to help you succeed in your writing and will provide important points for making the most of your screenwriting career.  Kouguell's blunt and honest approach provides a sobering, insightful guide to the realities of the marketplace."
–Scr(i)pt Magazine
"Kouguell is refreshingly down to earth, giving the reader a strong sense that she is an industry insider who knows all the powerbrokers but does not have to employ cheap tactics to legitimize her book.  With a sense of humor and intimate knowledge of how the system works, Kouguell explains a difficult and perplexing process in language writers can understand."
–New York Screenwriter Monthly
"As a professor and as a producer, The Savvy Screenwriter is invaluable to me. I use it in the classroom to enliven and enlighten discussions about producing and writing as well as personally and professionally to refresh my approaches to pitches, query letters and treatments for my own productions."
–Garland Waller, Assistant Professor College of Communication Boston University
"Kouguell has given it to us straight. The Savvy Screenwriter lays out a detailed plan.  It first explains how to fine-tune your work.  It then demonstrates how to promote an interest in, and ultimately sell, your script.  The book is concise, well structured, objective – and a bit humbling."
–MovieMaker Magazine
"Susan Kouguell, award-winning screenwriter & filmmaker, and chairperson of Su-City Pictures East, LLC, is no stranger to the film industry. To filmmakers like Louis Malle or Harvey Weinstein, she needs no introduction. To working or aspiring screenwriters who may not know of her yet, she is an accomplished screenwriter and script doctor who has quite possibly written the most comprehensive new book you will read this year…"
—NewEnglandFilm.Com
"Practical, witty and insightful. Screenplay doctor Susan Kouguell explodes the minefields of getting your screenplay produced so you don't have to get burned yourself. Her talents as a screenwriter, teacher, and film industry player, combine for an insider's guide to development hell and beyond. Read this book before you write another word!"
–Thelma Adams, Contributing Editor/Film Critic, US Weekly
"We have an alchemist in our midst and her name is Susan Kouguell. Combining wit and intelligence along with a penetrating insight, Kouguell's The Savvy Screenwriter is that long-awaited guide and step-by-step beacon for navigating the complex shoals of screenwriting. This book is not only a word to the wise, it comes from the wise as well."
–Andrew Marton, Critic, The Fort Worth Star-Telegram
"Kouguell offers a map, a guide, a survival kit. Thank you, Susan… The Savvy Screenwriter is so conversational, so friendly. It reads as though she's looking out for me, novice screenwriter that I am – and as perhaps you are too."
–Rebecca Rule, Concord Monitor
"This much needed book is both extremely informative and surprisingly readable."
–Ira Deutchman, President, Emerging Pictures
"Full of savvy advice about the screenwriting trade, Kouguell's humorous anecdotes from the frontline are themselves well worth the price of admission. Strong on the fundamentals of craft, as well as business protocol, the book left me wishing it had been available when I was just starting out in the biz."
—Will Scheffer, Screenwriter/Playwright/Executive Producer Big Love, Easter, In the Gloaming, The Pact
"Kouguell is simply one of the most original and exciting writers I know.  Her insights into the craft, and business of screenwriting in The Savvy Screenwriter are pure gold."
–Carl Capotorto, Playwright/screenwriter, Sopranos co-star, Chesterfield winner, 3-time O'Neill playwriting fellow
"I can honestly say The Savvy Screenwriter is one of the more enjoyable educational books I've read. Susan Kouguell has written an excellent book, which sticks to the most important and essential ingredients in the screenwriting career recipe. How does an aspiring writer find the time to actually write when wading through hundreds of screenwriting resources? The answer is easy; you become a "savvy screenwriter."
–UGO Screenwriter's Voice
Susan Kouguell's book is a superb resource! In rich detail, she leads the reader through the process of marketing one's work, mapping out the tasks and the people involved. Her book is wonderfully balanced with empathy for the writer's vulnerabilities and clarity about the industry's expectations. Ms. Kouguell teaches difficult lessons in a gentle way, leaving the reader to feel hopeful and informed. I unequivocally recommend this book to any writer who is taking that brave step of putting his or her work out into the world.
–Thomas Moore, Winner, Edward Albee Foundation, New York Drama League